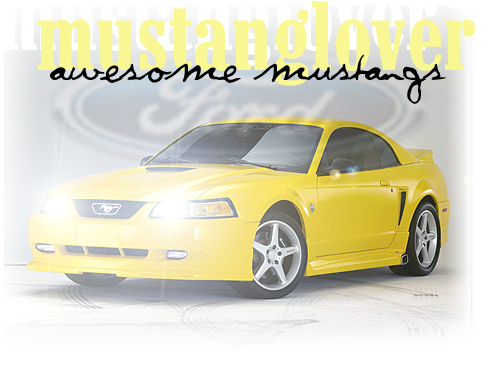 ::Best viewed at 800x600 & 1024x768 & 1152x864resolutions::
Hi, my name is Dean, and this is my MustangSite. The Ford Mustang is one of the greatest cars of all time. In itsfirst year of sales, it sold more than any other car in history. It wasthe first pony car, and now is the last. Everyone tried to copy theMustang, and cash in on Ford's new found market, but no one could beatthe original, the Ford Mustang. If you have any comments or questions,please feel free to e-mail me at dean@mustanglover.net,or get your own free e-mail address at my mustanglover domain byvisiting www.mustanglover.net/email.html.


***If you own a Ford Mustang, and would like me todisplay it in my gallery of Mustangs, send me pictures of it, yourname, town, and state, and your homepage address if you have one.***
Note to all friends of mine: I will no longer postnew pictures on this page of anything but Mustangs, instead, I'm goingto post them on www.picturetrail.com/mustanglover.I have a link to that site at the bottom of this page.
[
Sign myGuestBook
] - [
Read myGuestBook
]
[ GuestBook by TheGuestBook.com]